How to stick wallpapers?
The secret of a well-papered room is accurate, methodical and careful matching of patterns of individual sheets. The work should begin with papering the ceiling, in order to avoid splashing the adhesive on the finished walls and moldings afterwards. If the surface of the walls and ceiling is in poor condition, you will most likely need to cover them with backing wallpaper. When the walls are already covered with paper, wallpaper sheets trimmed and smeared with glue, if you have already selected a starting point and drawn the guidance lines, you can proceed to wallpapering. You need to stick the first sheet along the guideline, smooth with a brush and trim at the top and bottom. Stick the next sheets in contact with the previous ones, keeping an eye on the pattern lines.
Sticking wallpaper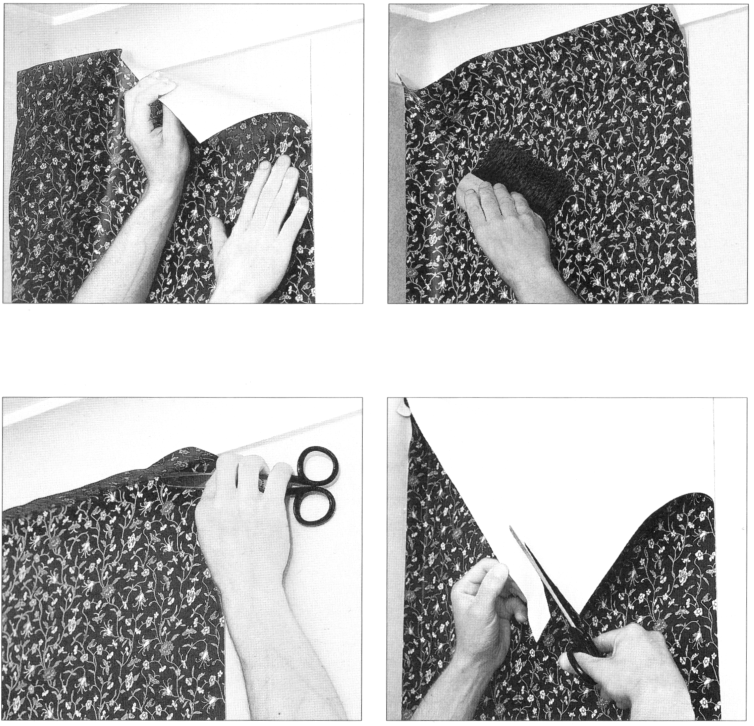 1 Facing the wall, unfold the top half of the sheet. Align the top edge with a vertical guideline. Leave at the top 5 cm of margin to be trimmed.
2 Press down firmly on the central part of the sheet with a brush. Use outward movements to eliminate air bubbles and press the edges of the wallpaper against the wall.
3 Align the bottom edge of the sheet, then press the upper edge against the ceiling with the outer edge of the scissors blade.
4 With a gentle movement, peel the sheet from the wall and cut off any excess wallpaper along the fold.
5 Press the cut edge of the wallpaper against the wall and smooth it with a brush. Stick another sheet of wallpaper.
6 Match the pattern of the new sheet to the previously glued one and align the contacting edges with a wallpaper roller.