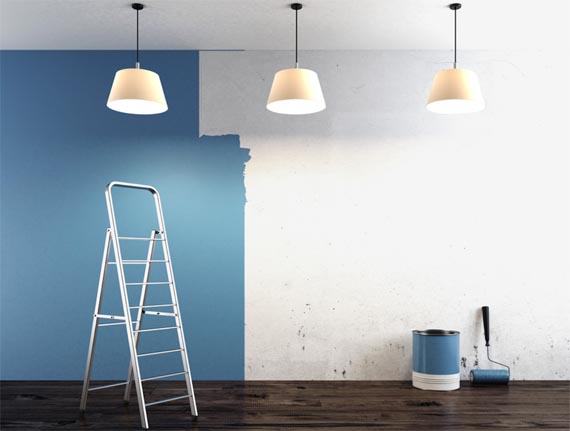 Sometimes we redecorate the whole house, some other time – only one room.
However, we always have to think first, which needs repair and restoration, choose a style, the colors, patterns, invoices, establish, what to put on the floors and what to cover the walls. Decisions await us, what furniture and fabrics to choose, and – most importantly – how to finish and decorate it all.
But where should we start??
Great ideas and basic skills
Decorating an apartment is not an easy task, but when we end boring, although necessary preparatory work, such as filling cracks, grinding and smoothing, the rest will be pure pleasure. Our plan is slowly taking shape, we create such a decor, in which we would like to live, we paint the walls or put wallpapers, we arrange the tiles and the floor, we introduce a palette of favorite colors and patterns, and finally we choose furniture – it is an exciting and rewarding experience.
Today we have a huge selection of paints at our disposal, the wallpaper, fabrics, tiles, floors and any other materials, necessary to furnish a comfortable and beautiful home. However, how to choose the right colors, patterns and accessories, to get the desired effect?
Are there any special methods for sticking wallpaper around the door? Whether to paint the walls or the ceiling first?
How to calculate the number of tiles you need? What colors go best together? What to do, to make the interior seem spacious? How to sew curtains?
How to finish a bedroom, to make it look modern, and what to do, to give it a classic feel?
Our website gives answers to these questions – shows, how a person with only basic skills can implement great ideas and projects. Here you will find practical tips and inspiration. Instructions are also provided, how to repair, prepare and paint surfaces, stick wallpaper and tile. Shown, how to sand and lay floors, and even how to make soft decorative accessories, from sheets to pillows. The instructions are accompanied by a list of basic tools, suggestions for the type and amount of material needed, as well as style suggestions, color and ways of decorating walls and floors.
Both general principles of arranging individual rooms were presented: the kitchen, bathrooms, the bedroom, living room, children's rooms, as well as specific ideas, how to conveniently arrange each of them,