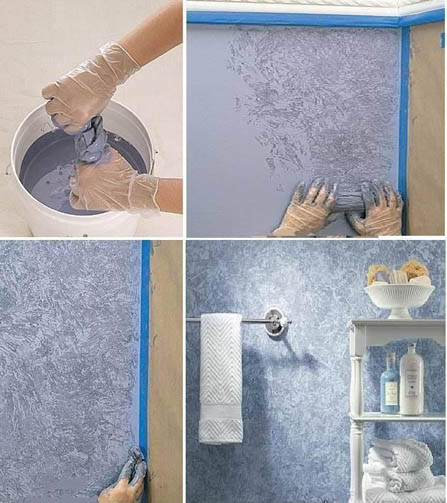 The chafing and padding create visual depth and texture, which gives an interesting look to a smooth wall. Such techniques require painting the wall with a base color, then applying the so-called glaze and spreading it with various tools, to obtain the desired decorative effect.
Successful painting effects
Regardless of, what paint we choose, walls or ceiling should be properly prepared for painting. No decorative effect will hide un-smoothed cracks or dirty walls, so it is worth spending some time preparing the surface. Then we apply the background paint (one or two coats of satin emulsion paint) and let it dry.
The secret to successful painting projects is to use subtly complementary shades rather than sharply contrasting hues and to try a variety of effects and color combinations on pieces of wrapping paper, wood or cardboard before placing them on the walls. This way you can convince yourself before painting, will we achieve the expected effect. It may be, that you should, for example, reduce the pressure on the tool or apply a shadow glaze.
Practical advice
• Always have a clean cloth to hand – it will be useful for removing excess paint, stains or immediate elimination of mistakes.
• If it's possible – we paint all walls as a base, before we start applying the glaze.
Materials and equipment
The tools and materials described below are used to achieve a variety of color breakout effects. We can also use items, we already have at home – rags, combs, sponges, and even crumpled newspapers or plastic bags. Some specialized brushes are expensive, it is therefore worth looking for synthetic substitutes, which are also of excellent quality. Some of the brushes are intended for painting, a part to be varnished and we do not mix them together. After use, the brushes are carefully cleaned.
Acrylic paint for artists – Available in tubes, in a large selection of colors, dilutable with water; it is perfect for coloring emulsions. It dries quickly, and after drying it becomes waterproof.
Azure – A transparent layer of color used to create special painting effects, available in water and solvent versions. Water-borne acrylic glazes are the easiest to use, they give off less fumes and usually turn yellow.
Universal pigment – A chemical dye that is soluble in spirit. Suitable for changing the color of emulsion paint or enamel.
Polyurethane varnish – Water-borne varnish available in many types of gloss, easy to apply; provides good surface protection. Spirit It is used to dilute solvent-based paints and varnishes and to wash away such paints and glazes., before they dry.
A thin round brush – It is useful for applying glaze on small and hard-to-reach surfaces.
Long horsehair brush – It is used to tampon or "flap" the wall with wet glaze, for a mottled effect.
Invoicing brush – It is used to remove dust from surfaces to be painted or to soften and blur contours.
Brush for imitation wood – Made of bristles, available in various sizes; it is mainly used to give the effect of fabric or wood grain. The brush with its tip allows you to smudge the solvent glaze immediately after its application, while it's still wet.
Sponge – Natural sea sponge is best for creating a tampon effect.
Painting stripes
The easiest way to give a smooth surface an interesting pattern is to use painter's tape to paint thick stripes. First, we paint the wall with the color of lighter stripes. We have to decide, how wide should the stripes be (they can be equal or alternately narrow and wide) i, when the background paint is dry, we stick masking tape (smooth and straight) along one edge of the strip and the other – along the second. We press the tape carefully to the painted surface, so that the paint cannot seep underneath. We apply the color of the second strips with a brush, with a sponge or rag, if we want to achieve a subtle tampon effect. When the paint is dry, gently peel off the masking tape.