You are going to refresh your room, flat, you want to start painting, but you don't know where and how to start.
In today's article, we'll give you some practical advice thanks, making painting easy and fun, and it will allow you to achieve the effect you want. We begin:
Start painting ceilings from the corner by the window, if there is no window in the room, we start near another light source, for example it may be an entrance door.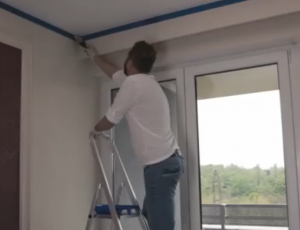 Narrow belt, paint the edge between the ceiling and the wall with a small brush, and then smoothen the resulting streaks with a small roller, width up to 10 cm. Paint the entire surface of the ceiling with a wide roller. The use of a paint roller allows you to save a lot of time and evenly cover the substrate with paint. For large and smooth surfaces, we choose a roller with a width of 15 do 20 cm and a fiber length of not less than 1 cm. The rougher the substrate, the longer the roller fleece should be to cover all cavities. We apply the paint in parallel stripes from the best lit part of the ceiling to the darkest part. Each subsequent strip of paint should be applied next to the previous one, thanks to which we will avoid the formation of unattractive streaks additionally emphasized by lighting. Each subsequent layer of paint should be applied after the previous one is completely dry.

We start painting the cuttings in a similar way. We start with painting the corners with a brush, all edges difficult to reach by the roller(stripes on the ceiling,the floor, contacts, light switches etc.)then with a wide roller 10 cm, we align the resulting streaks. Before painting the walls with a roller, it is necessary to slightly moisten it and squeeze out excess water. Then mix the paint in the package, pour it into the litter box and pick it up on the roller.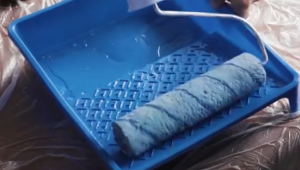 Application of paint over large surfaces, we start with walls with a window or other light source. We paint alternately overlapping V-shaped stripes.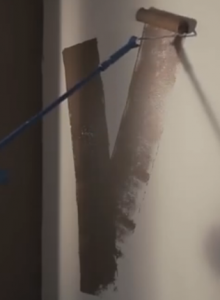 Then, gently leaning the roller against the wall without pressing it, we slide it vertically on the painted surface from top to bottom. In this way, we standardize the still wet paint layer so that it is smooth and uniform after drying. We leave the wall to dry on 4 hours. Another layer of paint is applied in the same way, when it is slightly dry, gently remove the protective tape.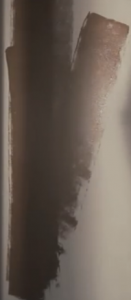 Remember to obtain excellent quality durable paint coats of uniform color, depends not only on the painting technique, but also on the proper preparation of the painted surfaces, and the selection of appropriate tools.
Below is an instructional video showing how to paint the walls and ceiling