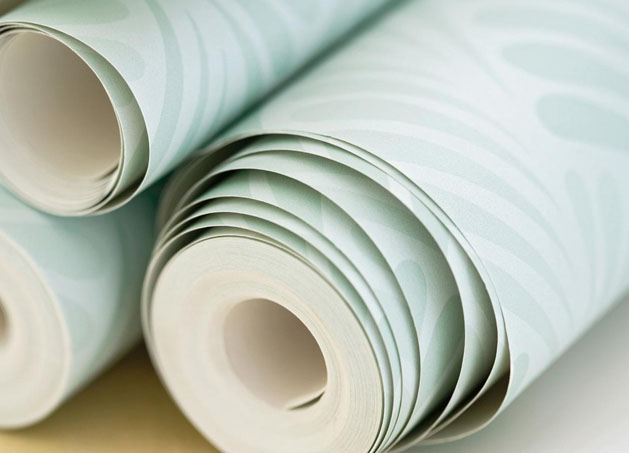 Embossed and relief wallpapers
These wallpapers have a convex surface and are best for covering low-quality plaster. Many of them can be painted with both emulsion paint, like varnish or oil enamel. Some of these wallpapers need to be handled with care, so as not to flatten the convex pattern. When glued and painted, they are extremely difficult to remove. Here are the main varieties of them:
Particle wallpaper – Wood splinters and filings resemble porridge; they come in different varieties: from fine to coarse. They are cheap and great for imperfect surfaces.
Plaster-like wallpapers – They look like delicately modeled plaster. There are over 100 patterns of such wallpapers, some of them resemble old wall coverings. They are made of wood pulp or cotton fibers; a PVC version is also available. The more convex pattern, the more expensive the wallpaper.
Linkrusty They were invented in the second half of the 19th century, they are somewhat similar to linoleum. They are made of linseed oil and fillers. They are often molded like this, to resemble wall panels; they are placed in the lower parts of the walls, then paints or stains. They are very difficult to lay.
Metallized wallpapers
The metallized surface is made of aluminum foil or metallized plastic, and the backsheet – paper or fleece, printed with a pattern. The shiny surface reflects the light, which can accentuate darker parts of the room, but will also highlight surface imperfections.
Fiber wallpaper
These structural wall coverings are made of natural fibers, such as raffia, sizal i million, which have been dyed and laminated with the backing material. They are suitable for walls of poor quality, provided they are not exposed to moisture.
Wall fabrics
Silk, linen and suede are examples of modern wall coverings available on the market. They are produced on paper or rubber soles, and sold in rolls, like wallpapers, or from the metro. Alternatively, the fabric without the backing can be unfastened on the slats. Such wall coverings are expensive and difficult to clean; require specialist hanging.
With or without glue? Most wallpapers are not covered with glue and need to be applied with glue before wallpapering.
Adhesive wallpapers are covered with dried crystalline glue on the underside, which activates, when the wallpaper is immersed in water. They are easy to lay, because there is no need for a brush or glue. You may need to glue the places where the individual stripes of the wallpaper join, if they start sticking out.
Self-adhesive wallpapers – such wallpapers allow them to be glued directly from the roll; it takes less time to lay than other wallpapers.