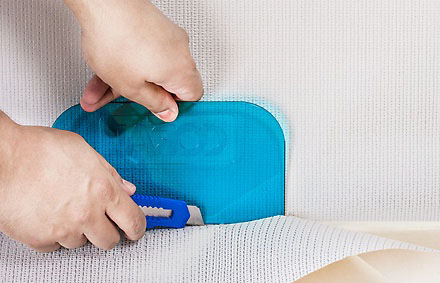 The material suitable for covering the walls is not only paper, but also plastic panels, foil, natural fibers and fabrics. The prices are very different. Some wallpapers are stronger and easier to stick than others.
Choosing the right one may not be easy, it is therefore worth getting acquainted with the existing possibilities in advance.
Backing paper
It's smooth, inexpensive paper used to cover poor-quality wall and ceiling surfaces before gluing the right wallpaper or decorative painting. (This is often the best method to hide thin cracks in the ceiling). The backing paper is stuck vertically before painting, and horizontally before wallpapering.
Paper wallpapers
Such wallpapers are available in a great variety of designs (and prices), including hand made and hand painted, which require specialist treatment. Standard wallpapers are not washable or stain resistant.
Textile wallpaper
They contain nylon fibers, cotton, rayon or natural silk glued to the PVC underside, paper or fleece. This gives an effect similar to velvet. They are available in traditional and deep patterns, saturated colors (they imitate tapestries and textile wall coverings). They are expensive and difficult to glue and clean (the available PVC versions are easier to maintain).
Washable wallpapers
These paper wallpapers with a transparent protective layer of plastic are stain resistant and easy to stick. They can be washed with a damp cloth or sponge, should not be soaked (too much water may weaken the adhesive); suitable for kitchens and bathrooms.
Vinyl wallpapers
These wallpapers consist of a vinyl layer, applied to the back of the fabric or paper; They are sold in a glue-coated and non-glue version.
They are durable and washable, making them suitable for bathrooms and kitchens. They need to be glued with a special glue with a fungicide, which prevents mold. Very important is, so that they do not overlap, because they won't stick. Vinyl wallpapers are very easy to remove.
The selection of vinyl wallpapers includes vinyl-covered paper wallpapers, vinyl, metallic and structural.
Structural wallpapers are mainly "profiled" coverings adapted to difficult conditions, often "tiles from the metro". Foam vinyl has a raised pattern, which gives the impression of three-dimensional. Vinyl wallpapers are great for uneven surfaces. They are available in many designs and colors, though you can also buy undyed wallpaper, for painting. Foamed vinyl is washable, but the surface wears off quickly.