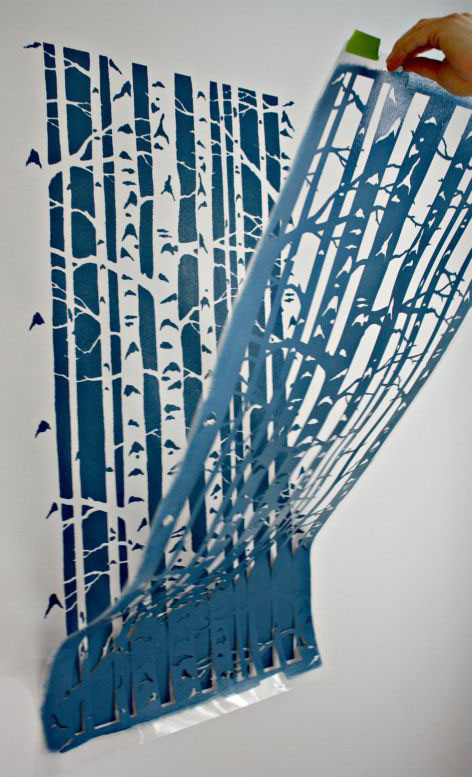 Templates for painting
These easy and fun to use techniques allow you to create original effects, and the selection of stamps and pre-made templates available in DIY stores and artists is quite large. We don't have to limit ourselves to decorating the walls – you might as well decorate your floor, furniture or fabrics.
Templates
If we use a repeating pattern, for example, to create a string of connected elements as a border around a room, we will not avoid precise planning and measuring. Painting with templates, start from the middle of the wall and work, until we get to the edge, exactly repeating the motive. The patterns are arranged using a level or a bricklayer's plumb line. If patterns are placed too rarely, we put additional motifs between them.
Practical advice
• Before we start, try your pattern and color on a piece of paper or cardboard.
• Attach the templates to the walls with masking tape. To avoid stains under the template, we do not rub the paint too much.
Applying color
Colors can be applied to the template in many ways, obtaining various effects. Shades can come from several layers of colors, you can also let the colors mix. It is worth checking the various methods of applying paint, to be convinced, which suits us best.
Stencil brush – Sztywne włosie wchłania niewiele farby, which allows for the exact mapping of the template on the wall. We take paint on a brush, we press off its excess and put it on the template, moving the brush or dotting the cut shape with it.
Sponge – A small piece of sponge will be the most effective tool for covering large-area shapes cut in the template. We slightly moisten the sponge, we take a small amount of paint, we squeeze out its excess and apply it, by lightly pressing the sponge. You can let the colors mix or let each layer dry
Foam roller – A small shaft is the most economical way to obtain a compact, even coverage with a template for large motifs, especially on the fabric.
Spray paint – Aerosols are not always good for stencil painting – the sprayed paint can easily stain the surface surrounding the template. Another problem may be that thin paint will soak under the edges of the stencil – therefore it should be applied slightly from above. On the other hand, sprays are great for painting large surfaces with one color and are perfect for floors and fabrics.