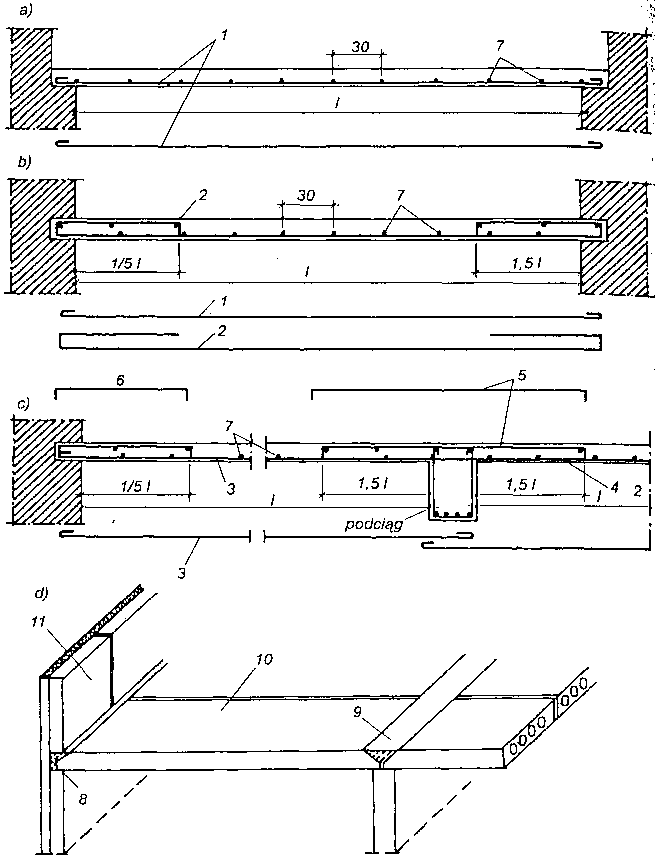 Reinforced concrete slab ceilings
The slab ceilings have the smallest thickness of all the ceilings described. These ceilings are used for a span of approx. 9,0 m. The thickness of the slab depends on the span of the floor, way of backing, the size of loads and requirements for acoustic insulation. For structural reasons, the thickness of the plate can be assumed in the range from 1/20 do 1/50 span, depending on how it is supported. However, due to the acoustic insulation, the thickness of the panels in residential buildings is assumed to be not less than 16 cm. If the floor slabs rest on two parallel edges, then they work in one direction. Plates resting on four edges can work either in one direction, or in two directions. It depends on the spans l1 and l2, where l1 / l2 > 2 the board works unidirectionally, while if l1 / l2 ≤ 2 the plate works in both directions.
Slab ceilings are made in the form of monolithic reinforced concrete slabs concreted on the construction site or composed of prefabricated slabs. Depending on the dimensions l1 and l2, monolithic slabs can be unidirectional or cross-reinforced, while prefabricated slabs are usually unidirectionally reinforced. Prefabricated slabs dimensions - mainly width, zależą od możliwości transportu drogami publicznymi oraz od urządzeń montażowych.
The slabs concreted at the construction site usually have a full cross section, and prefabricated, they are produced both with full cross-section, as well as with holes. The length of prefabricated panels used for ceilings in general construction does not exceed 12,0 m, and the width 2,4 m.
In figure a, b, c shows the ceiling with a monolithic reinforced concrete slab, Lynx. d a ceiling made of multi-hole prefabricated slabs.