If you are considering a color change in your apartment, lounge, the kitchen, bathroom, you should learn some basic practical advice on painting walls.
Painting seems to be nothing difficult, but still, many people have problems with this. We can ask ourselves whether it is better to hire a professional, Can he, however, take up the challenge and repaint the room himself. After reading our article, you will be able to answer this question without any problems.
Brush or roller what is better to choose for painting?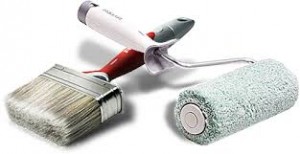 It all depends primarily on the type of painted surface. If the wall is smooth, then easily use a roller, thanks to which you can quickly and easily paint large areas of the wall with paint. Producers of rollers and brushes give us a wide range of possibilities. They create various types of products, e.g.. long-haired rollers, which, according to the manufacturer's recommendations, is ideal for painting uneven surfaces. However, remember about an important thing - a wrong roller, will make your wall streaky. How can this be prevented, the recipe is very simple, when you paint with a roller, make only vertical movements. Before painting, Examine your roller and check that there are no threads on it, and whether it does not accidentally dusty, wówczas cała nasza praca poszła by na marne. Jeżeli chodzi o pędzle przeznaczone są one do malowaniach nierównych, rough surfaces. Before you start painting, be sure to stock up on two types of brushes, small and large. For what purpose we are doing this, the answer is very simple. You can paint large surfaces of the wall with a large brush, the small one, you will paint the edges of the walls. Pędzle mogą być zakończone w włosie syntetyczne jak również naturalne. What's the difference, which to use for what? Jeżeli ściany będziesz malował używając farb rozpuszczalnikowych, use brushes with natural bristles, when you decide to use acrylic or vinyl paints, choose synthetic bristles.
Painting techniques ...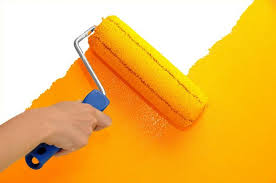 We mentioned rollers and brushes while writing, that when using the first one, you should make only one move, i.e. vertical, it will help you avoid streaks. How should you paint with a brush? With the paint already spilled and mixed, Wet the brush a third of the bristle depth - less than half ! then lift it up and let the excess paint drain into the container for a while, from which we take the paint. When starting painting, you must choose which corner of the wall you will start from either the right or the left. We never start from the inside, or one side, then we move on to the other. The moment you decided to choose a solvent-based paint, to ruchy pędzla podczas malowania powinny być TYLKO pionowe, when using emulsion paints, you can choose any technique of applying paint on the wall, i.e.. vertical or horizontal. We never mix the way the paint is applied. This can cause streaking.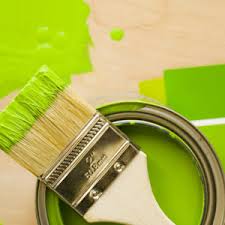 By following our advice you will save a lot of time, when you renovate your room. And the painting itself should be a lot easier.