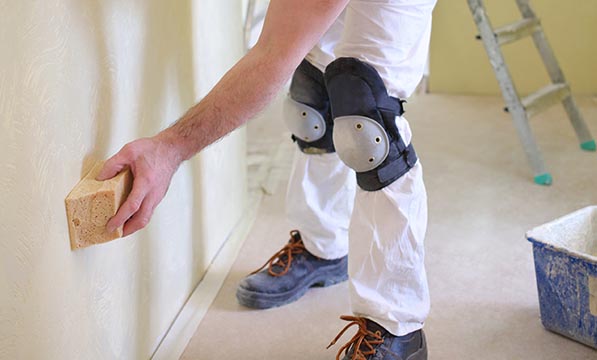 Preparation of the surface for painting is very important.
They may include washing, removing previous layers of paint or repair, such as filling cracks and holes.
Washing
When we prepare already painted surfaces for renovation – regardless of, are they walls, ceilings, woodwork or floors – we don't need to remove the old paint, if it is in good condition. It is enough to wash the surface with a detergent solution or otherwise degrease, because the paint does not stick to greasy places. Then you need to rub the wall with sandpaper, to give it more grip, and wipe off any dust thoroughly before painting.
Stains on walls and ceiling, for example, water stains, they can penetrate the newly applied paint and mar the restored surface, if not handled properly. It is a good idea to first paint them with a special paint that neutralizes dirt.
Unpainted metal only requires cleaning and priming (new radiators are often already primed).
Removing old paint
Surfaces, which have been poorly painted or are already covered with too many layers of paint, become lumpy, they come loose and flake off. In this case, always remove old paint before re-painting.
The old emulsion paint is removed with a spatula, after moistening with warm water.
Chemical agents or high temperatures are used to remove old paint from wood or metal. Peeling paint off convex surfaces (handrails, cornices) it will be easier with a scraper or a wire brush. Remove loose and flaking pieces of paint from the walls with a spatula and rub these places with sandpaper.. We protect the eyes and hands, we put on the mask.
Some old paints may contain lead. So it's best to have them chemically removed, as mechanical methods can lead to poisoning. There is also a risk of inhaling the filings when sanding or scraping old paint, heating would lead to the formation of hazardous vapors.
A mask will protect us from such a danger.
It is worth considering carefully, before we decide to remove paint from wood, to stain and varnish them later. This will require long sanding. If there are any leftovers, the stain will not spread evenly and stains will form.
We sand the already painted metal with coarse sandpaper. We remove rust with a wire brush and fill in cavities and cracks. We apply a layer of primer to the metal, and the backing on it.