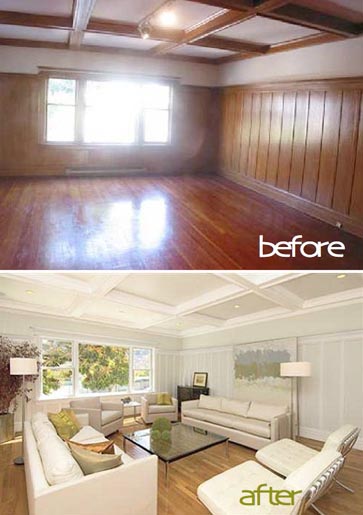 Painting skirting boards
When the room is freshly painted, an unrefurbished wooden skirting board spoils the overall effect. Painting the moldings is a quick job, which is best left for a while, when the walls are finished. Because the slats are low and narrow, small gems use a small brush and enamel resistant to abrasion and chipping. First, wipe the slats with a damp cloth, to remove dust, and vacuum along the bottom edge, to get rid of dirt and lint from the carpet, which may stick to fresh paint. We spread the newspapers, to protect the floor. To cover a wall while painting, you can use a piece of cardboard or a thin piece of wood. If the wall is completely dry, painter's tape can be used (let's remember, however, about its removal, before the paint hardens on the moldings). We paint along the slat, horizontal brush strokes.
Painting around the stairs
The staircase is one of the most difficult places to repair. However, we can renew it ourselves, even if we don't have much experience. The first thing, we need, it's an elevation. The most sensible solution is to use an articulated ladder or a ladder scaffold with adjustable legs, which can be adjusted to the steps of the stairs. If we are not afraid of heights, we can construct scaffolding from ladders and boards. However, we should check frequently, that the boards have not shifted and lie securely on their supports, especially when climbing or descending from scaffolding. Using a roller or a trowel with a telescopic boom, you can greatly increase your coverage and apply paint to the ceiling and high up the walls around the stairs.
Painting stucco and slats for hanging pictures
Before we start painting the slats for hanging pictures, please make sure, that they are clean. They are usually painted with a paint of a similar type to that used on the wall, usually emulsion, but in a contrasting color. Using a small brush, we paint the slats along, shielding the wall (in the same way as when painting baseboards). Stucco is usually painted with the same type of paint, what walls. The paint can be of the same color as on the wall or ceiling, or of a contrasting color, which will emphasize interesting details. When painting them, we use painter's tape or a piece of cardboard, to protect the walls from staining with paint.
Practical advice
Each renovation work will be much simpler and faster, if we can remove all the furniture from the room and cover the floor. If it fails – let's slide the equipment to the center of the room and cover it and the floor with a medium-thick painting foil.