Color recommendable white from the company Kaaba Perfect
One of the best-selling paints inwards. It has very good covering properties and a matte finish. The pigments used are titanium white, which causes, that color it is snow white. It is recommended in particular for renovation painting of walls and ceilings in all dry rooms, e.g. in bedrooms, peace, lounge. In addition to the standard white colors we offer Perfekta paint in the colors of the mixer. The color palette is very rich, we color Kabe paints according to the pattern z Kaaba, NCS and, if necessary, according to the color supplied. We send a given color to the laboratory and a recipe is created.
Some tips on how to paint:
The surface to be painted must be clean, there must be no dust and stains.
Before painting, it is best to fill in all cracks and scratches, so that the wall is smooth.
Then the given substrate is primed with a specially designated ground.
We select the right tools : brush, roller or spray
We recommend painting the surface twice
Packaging for sale:
-2,5l
-5l
-10l
-15l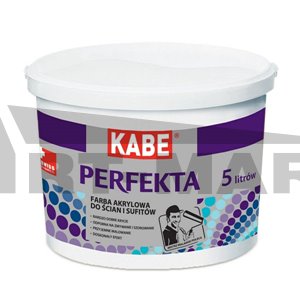 Painting will become pleasant and we will get a perfect effect.
Technical data Perfekta Kabe:
The binding agent is a copolymer binder, the pigments are titanium white and colored pigments, density within 1,50 g/cm3. Available colors: white as well as colors according to the KABE Paints pattern book, NCS or sample provided. Gloss Grade: mat, the diluent used is water, average consumption is approx 0,25 liters per square meter. Temperatura w jakiej powinno wykonywane być malowanie (air and ground) to - from +5 st C do +25 st C.