BUGOFLEX KABE GOOD PAINT FOR FACADE.
Acrylic color facade with low surface water absorption and increased resistance to the alkalinity of the substrate. It is characterized by excellent coverage and resistance to unfavorable weather conditions. We propose Bugoflex paint in white and in a wide range of colors from patterns. They are mainly used outdoors on substrates such as concrete, cement and cement-lime plasters. Thanks to its flexible coating, it is highly resistant to UV radiation, airing, extreme temperatures and rainfall.
Before applying the paint, the best primer to use underneath Bugoflex is BUDOGRUNT ZG.Thanks to it, you will improve the adhesion of the paint coating. You will reduce and even out the absorbency of the substrate. Thanks to its ingredients, Budogrunt has very good penetrating properties. Another advantage of using our products is to strengthen the surface of the substrate. It is also worth mentioning, that this soil significantly reduces dustiness
Apply the paint with a roller, brush or spray
Primary and renovation painting.
Matt degree of gloss.
Packages available include :
-5l
-10l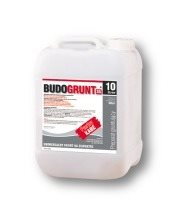 We will get the best effect by painting twice. Consumption for 2x painting on a smooth surface is approx.0,25l/m².