AKRYLATEX - acrylic paint that you will paint over concrete elements
Soon you will be painting the facade, and you don't know what paint to use? Today we would like to present one of the best products from the Kabe company, AKRYLATEX paint, which is resistant to weather conditions such as snow, rain, sun rays, moisture. The manufacturer took care of it, so that everyone can have their dream color from a large color palette, Another advantage is the easy and flexible way of working, Our product provides perfect coverage of various surfaces, but is primarily intended for painting plinths outside apartments, blocks of flats and other free-standing buildings. We can read in the Kabe AKRYLATEX paint specification, that it is used to renovate chimneys, various types of plates, terraces, made of cement and asbestos. Our paint is ideal for painting concrete fences, viaducts, cement roof tiles, as well as other elements with a reinforced concrete structure, or concrete not mentioned. AKRYLATEX does not absorb water, so that the moisture content of the outer concrete layer is adequate.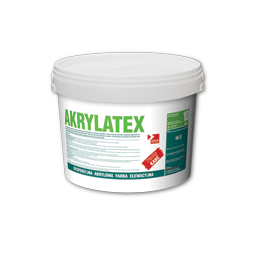 If you would like to stop the carbonation process, be sure to choose AKRYLATEX this paint reduces the transmission of carbon dioxide CO2 which has the greatest impact, the emergence of this phenomenon. The structure of the paint, it will also protect painted elements against dirt. Summarizing our product, you can use, when you want to renew, secure, renovate elements with a reinforced concrete structure, concrete, mineral substrate, generally items that are covered with a well bonded coating. Before applying any paint, each surface should be carefully cleaned and primed. We recommend the proven BUDOGRUNT ZG with AKRYLATEX paint, which is perfect for a foundation.