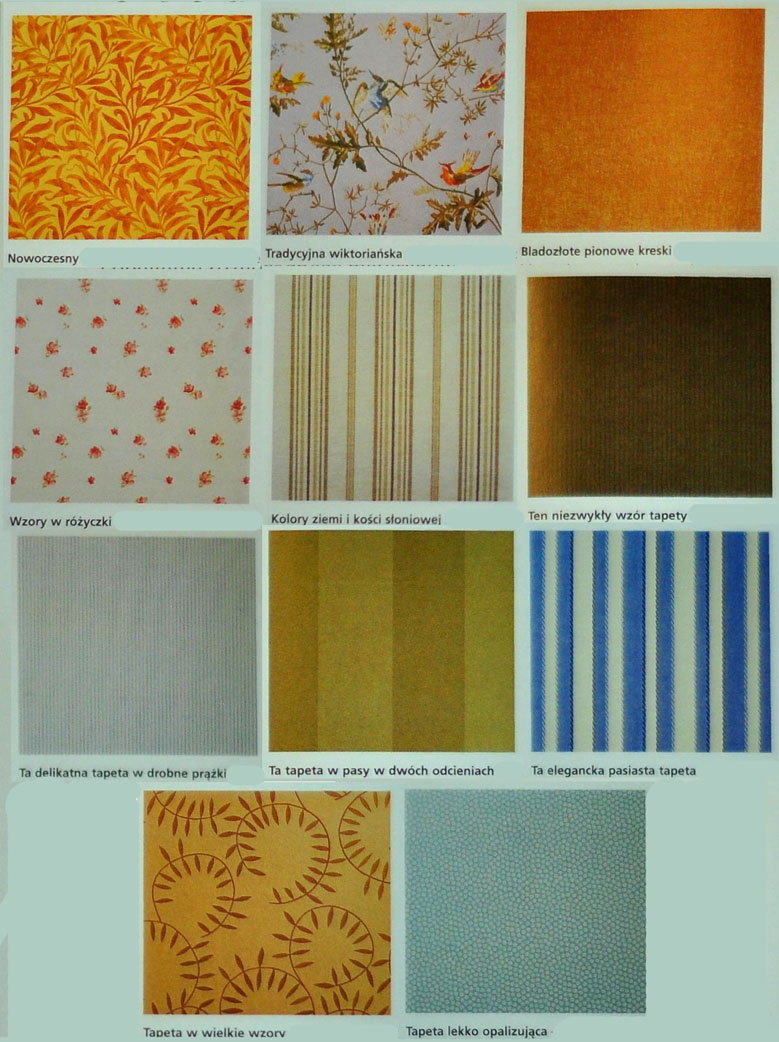 Wallpapering is a quick and easy way to renovate walls or ceilings, and the choice of wall coverings is really big and includes a variety of materials, colors, patterns and textures. The samples below are only a substitute for this, from which you can choose.
Traditional Victorian wallpaper with a Chinese pattern, hand printed, fits perfectly into contemporary interiors. Because it is particularly expressive and resembles painting, it should not be placed all over the room, or rather, to display one wall or eaves above the fireplace.
Rose patterns give the interior a rustic character. This traditional rose wallpaper is perfect for bathrooms or cozy family kitchens.
The pale gold vertical lines on this wallpaper look like hand-painted on a rough one, poorly finished terracotta or plaster base.
Modern doesn't necessarily mean sharp bright colors. It is possible to create sumptuous interiors in a very fashionable style. For example, this willow leaf wallpaper comes in elegant colors: pale honey, golden cream and coral – suitable for use in modern, an intimate living room or bedroom.
The earth and ivory colors were accentuated by a flash of gold. The traditional color combination on the wallpaper gives a new invigorating raw air, hand-painted stripes. It is worth choosing for a simple yet pleasant finish in the living room or dining room, or for traditionally dark places, such as the space around the stairs.
This unusual wallpaper pattern is a reminiscence of Indonesian beach huts or rattan umbrellas from hot beaches. Pale olive color perfectly harmonizes with the color of raw wood, and even with a contrasting color of paint.
This striped wallpaper in two shades of the same color looks elegant and is suitable for official interiors, and private. So wide, expressive stripes are perfect for large rooms or open spaces inside the house. You can use this pattern throughout the hall, around the stairs and on the landing.
Wallpaper with great patterns doesn't have to be overwhelming, it can give an interior a really modern character. In this case, the floral pattern enlivens the walls. Neutral shades of beige are broken with the addition of old gold leaves. It is good to combine this wallpaper with gilded picture frames and simple wooden furniture.
Delicate wallpaper with small stripes resembles stones from a sea beach. It will be a great choice for a small apartment, because wider stripes would optically reduce the interior. You can use this wallpaper in the bedroom in combination with solid blue curtains and daisy cushions, or use it in the hall, to light it up.
The elegant striped wallpaper is very formal; goes well with wooden paneling in classic halls and dining rooms. It can also be found in a modern style home – located in the dining room or living room on one wall, which we want to display, and combined with many shades of blue and cream.
Slightly iridescent wallpaper – this pattern perfectly harmonizes with the combination of matte and glossy elements. Just like the mother of pearl, the appearance of such patterns depends on the viewing angle and the way of lighting. As an original element of the room's decor, it will go well with delicate blue satin pillows and bedspread, and with bedside tables with mirrors on the sides of the bed..