Wallpapering – Marking auxiliary lines on the ceiling and walls
Angles, door and window recesses rarely remain perfectly vertical to each other. Thus, the first step when wallpapering the walls will be to draw a vertical line that marks the edge of the first sheet of wallpaper. Hang a weight from the ceiling on a rope smeared with chalk, then pull it slightly away from the wall and release it, to leave a chalk trail. Draw a separate line on each wall and constantly check the alignment of the sheets. Draw the lines on the ceiling by pulling the chalk line at equal distances from one wall to the other and pulling it slightly, to leave a trace. The starting point for wallpapering the ceiling is usually a line parallel to the window, thanks to – similar to painting – you will move away from the light source during work.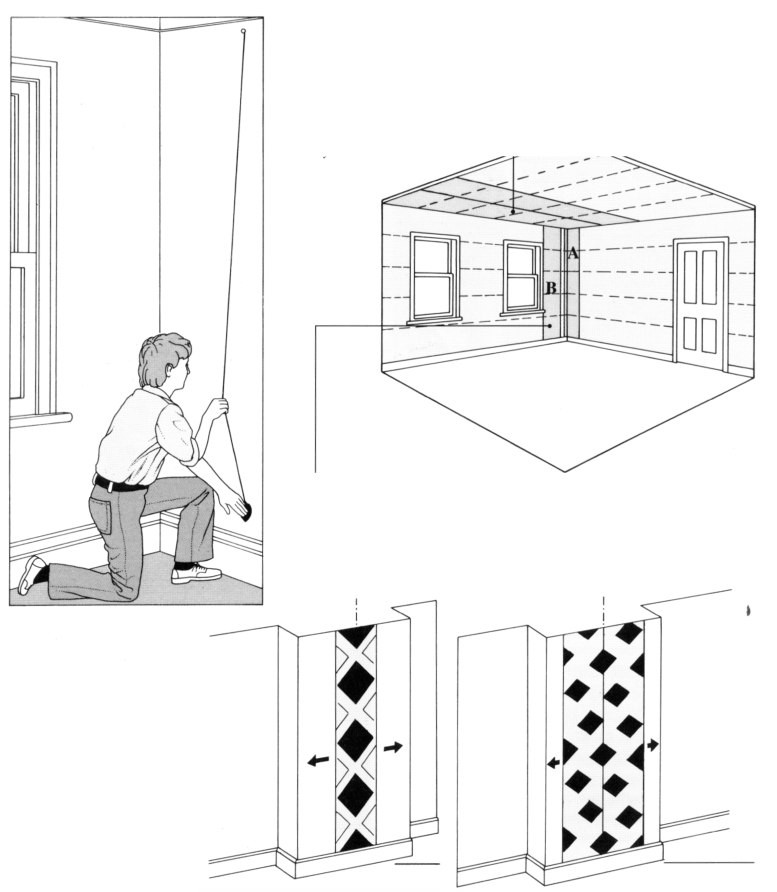 The use of a plumb line on a rope smeared with chalk
When the suspended riser stops swaying, press the end of the cord against the wall, then lightly visit and release, to leave a chalk trail.
Where to start wallpapering the ceiling?
Start with a strip parallel to the main window opening. Draw the first guideline like this, that the resulting strip is approx 5 cm narrower than wallpaper.
Where to start wallpapering?
Move away from line A. First, cover the first side wall with wallpaper, then the window wall, the other side wall, finally the rear wall. You can also start from line B, wallpaper the entire window wall, then the side walls, and finally the rear wall.
Fireplace smoke duct
If the wallpaper has large patterns, try to position the pattern in the center of the projection (on the left). If the pattern is not symmetrical, mark the center of the protrusion with a line and stick a full-width sheet on both sides (on the right).