Wallpapering around sockets and switches
First, turn off the power supply to the network. Modern, wall-mounted sockets and switches are easy to cover with wallpaper. First, remove the cover, and then hang a sheet of wallpaper covering the socket. Cut a hole in it by approx 6 mm smaller than the circumference of the housing. Press the wallpaper against the wall and put the cover back on.
Older type sockets and switches are often permanently installed. Stick the wallpaper above the outlet, and then make incisions radiating from the center of the socket and extending approximately 1,2 cm beyond the edges of the housing. Press down on the wallpaper with a brush and trim off the excess paper.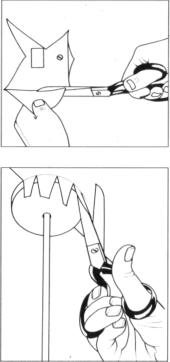 Light switches
Cut the wallpaper from the center of the device towards the corners, and then use scissors to trim along the edge of the housing.
Round ceiling casing
Cut a series of radial cuts around the housing, then cut off the tongues with a utility knife.