Wallpapering of staircases.
The height of standard staircases presents us with the need to solve two problems: how to reach the top of the wall and how to handle extra-long sheets of wallpaper.
Therefore, your first task will be to construct a safe scaffolding.
Although the work should proceed away from the light source, it will be easier for you to start wallpapering by sticking the longest sheets.
Take into account the angle of the stairs when measuring the length. Each sheet should be a bit longer than the greatest distance between the ceiling and the batten. Gently fold the sheet diagonally and cut off the excess. After lubricating with glue, fold each sheet into an accordion, which will increase your freedom of movement. If you can, ask someone to help you hold the wallpaper while sticking it on.
If you use self-adhesive wallpaper, dip each sheet in the water twice, so that it can reach the entire surface covered with the adhesive. Immerse the patterned rolled sheet outwards in the tray, then grab the bottom edge and roll it up again like this, so that the top edge appears at the end.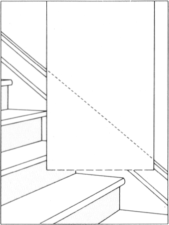 Measure a bevel
Always take the slope of the steps into account when measuring the height of the staircase, each sheet must be slightly longer than the greatest distance between the lath and the ceiling. Fold the wallpaper along the batten and cut off the dimension.