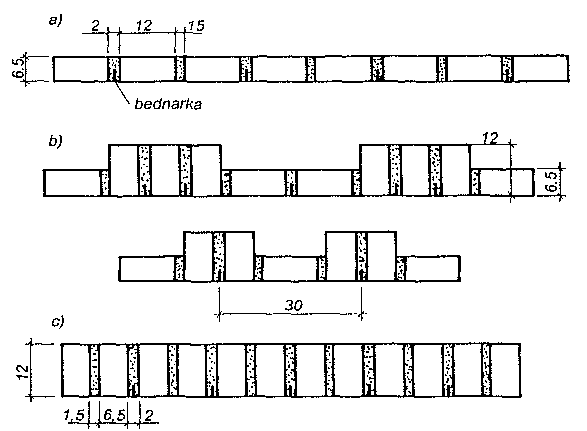 Ceramic tiles in Klein ceilings: a) light, b) light heavy (ribbed), c) heavy.
Klein's ceiling. Ceilings with ceramic tiles are most often called Klein columns. These ceilings are made in three variants: light, light and heavy. The ceramic tiles of the Klein ceiling are shown in the figure.
Heavy type plates are thick 1/2 bricks, a light 1/4 bricks. Light heavy plate (ribbed) also has a thickness 1/4 bricks, but it is reinforced with brick ribs laid on the seam. The length of the bricks in the boards is perpendicular to the beams or walls supporting the boards. Transverse joints of adjacent layers should be shifted by 1/2 bricks.
Klein slabs can be reinforced with a hoop with a cross-section 1 x 20 mm do 2 x 20 mm or less frequently bars with a diameter of at least 6 mm. The cross-section of the reinforcement depends on the floor load and the slab span. The reinforcement is placed in every second or every third weld.
The ends of the hoop must be bent and bent at right angles to let them into the joints between the bricks and the beam web..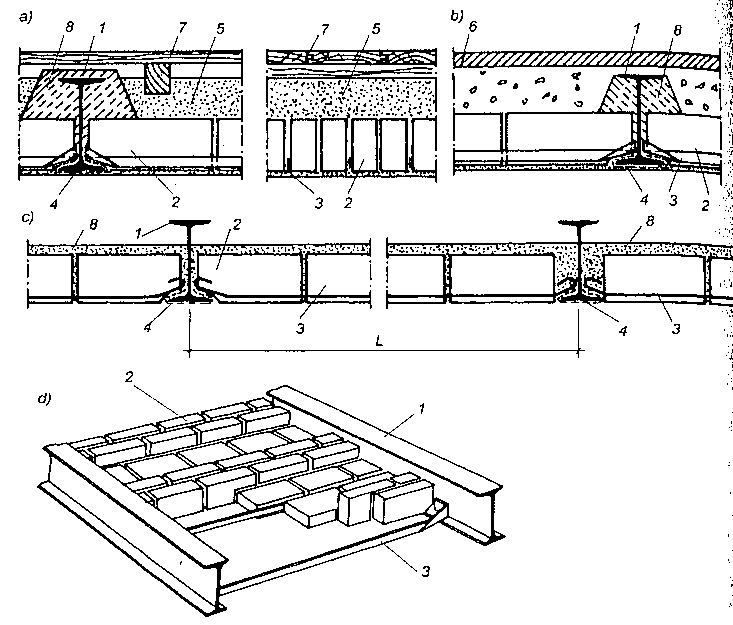 Klein's ceiling: a) cross-section of the ceiling with a wooden floor on joists and heavy-type slabs with a reinforced hoop, b) with carpet floor, c) cross-section through a ceramic plate reinforced with bars, d) light heavyweight plate view; 1 - steel bar, 2 - brick, 3 - flat bar or rod, 4 - mesh, 5 - polepa (lightweight concrete), 6 - sub-floor layer, 7 - wooden floor,
The figure shows a Klein ceiling with a heavy slab, reinforced with a hoop (Lynx. a, b) and rods (Lynx. c).
Klein boards are made on formwork, which are most often suspended from ceiling joists. The formwork should not be directly adjacent to the beams, but stand out approx. 1 cm.
The bricks of the boards are placed on the formwork. First, a mortar is applied to the bricks, and then it is placed in the plate on the clamp. After the entire slab is built between two beams and the reinforcement is laid in the joints, the slab is poured with a thin cement mortar, so that it fills joints and unevenness. To make Klein boards, a cement mortar in proportion is used 1:3.
Before laying the beams, the lower shelves (footers) is wrapped with a net, to ensure better adhesion of the plaster. In order to increase the stiffness of the beams, the upper flanges can be covered with concrete.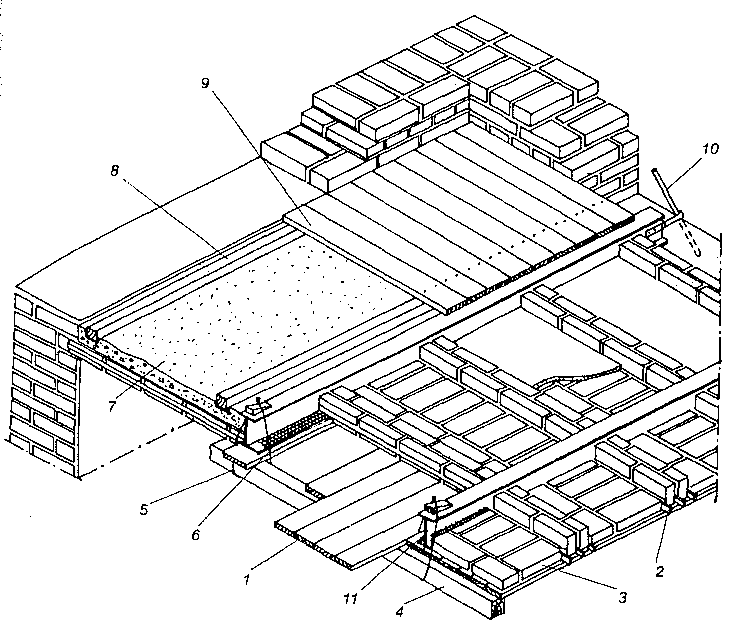 View of part of the Klein ceiling during construction; 1 - suspended formwork, 2 - cooperage, 3 - brick, 4 - a transom that supports the formwork, 5 - wire handle 06 mm, 6 - wire mesh, 7 - polepa, 8 — legary, 9 - floor, 10 - anchors in every third beam, 11 - beam.