Stamping
Although applying a pattern to fabrics, wallpaper or walls is an old art, you can still buy inexpensive wooden stamps on flea markets. Many craft stores sell modern rubber stamps and inks.
There is also a large selection of stamps designed to apply emulsion paint directly to walls or ceilings. They are cut from compact foam and comfortable to use. Thanks to the small stamp, you can create casual quickly, loose pattern, and use larger to make more visible decorations, for example, above a door in a hallway. Here, too, we may need a spirit level or a bricklayer's plumb line and a soft pencil, to mark the correct position of the stamp.
How to achieve the effect
1 We put some paint on the plate and cover the stamp with it, by gently pressing it into the paint. If we were unable to evenly cover the stamp with paint, we can help ourselves with a small roller.
2 We press the stamp firmly to the decorated surface. We remove it quickly, trying not to move, so that the motive does not blur.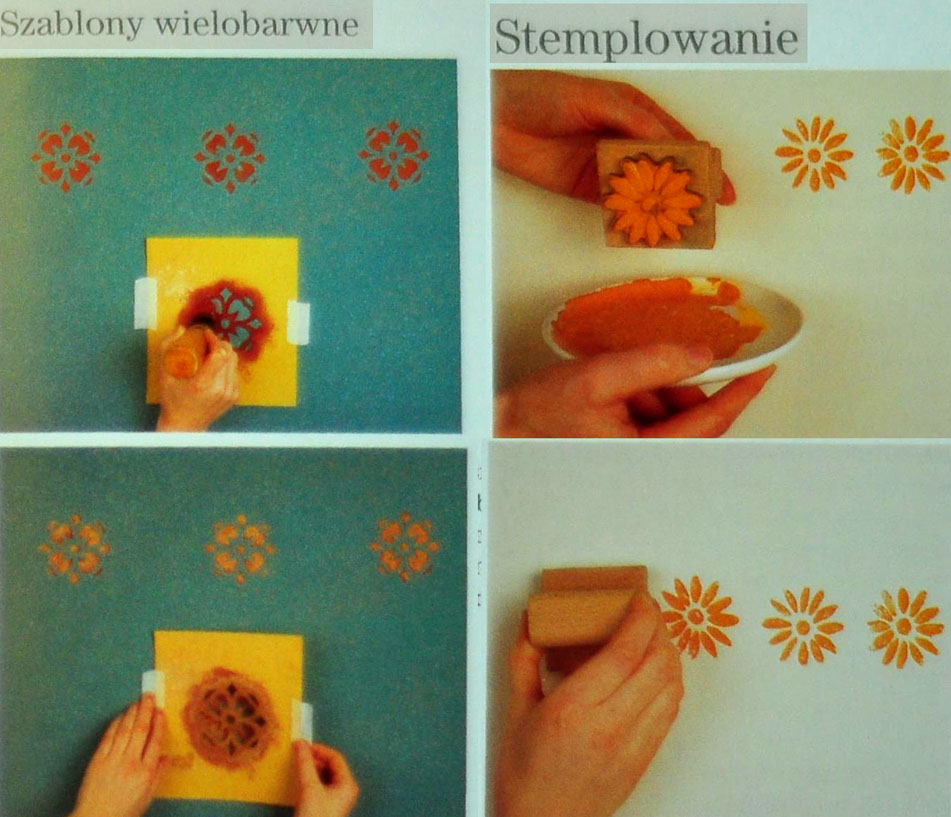 Multi-colored templates
If we paint with more than one color, should be checked, is the first layer dry, before we apply another one. If we use more than one template, it is good to cut them in the same place – such a stamp will help us to synchronize their mutual position and avoid disturbing the pattern.
How to achieve the effect
1 We mark the center of each motif with a pencil and a ruler. We apply the template like this, so that the center lines up with the pencil mark, and fasten it with painter's tape on both sides. Using the stencil paint brush, apply a small amount of paint to the stencil in a dotted motion.
2 When the first color is dry, glue the template again in the same place and apply the second color as before.