Painting window frames
Window frames, exposed to condensation and atmospheric changes, it is the most endangered wooden element of the interior. Before painting, remove any defects and prepare the surface. Paint all openable windows as early in the morning as possible and allow them time to dry. You will need a brush with a width 2,5 cm i – if you see fit – a piece of cardboard to protect the windows.
The order of individual stages of painting depends on the structure of a given window. You will achieve the best results by using the following sequence of painting individual elements of windows with sliding glass and casement windows. The last brush strokes should always follow the grain direction of the wood.
Windows open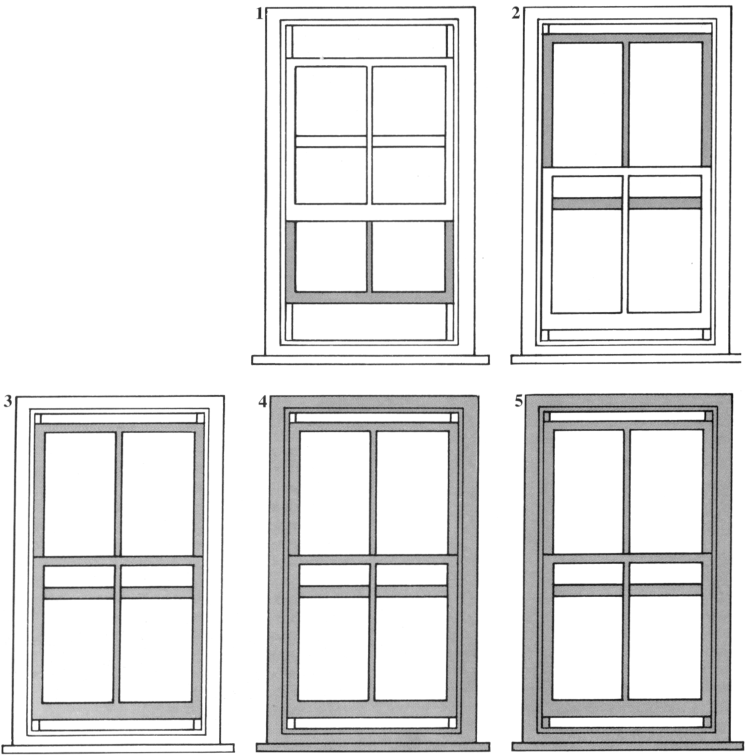 Keep in the following order of painting:
1 Move both windows like this, that they overlap around 20 cm. Paint the bottom edge and the exposed vertical parts of the bottom glass.
2 Slide both windows almost to the closed position and paint the rest of the bottom window frame.
3 Now paint the lower pane frame and let it dry.
4 Open the windows, support them with matches and paint the doorframe.
5 Paint the internal parts visible when sliding apart, and finally a window sill.
Painting narrow edges
It's worth practicing this technique a bit, allowing thin lines to be painted on the frames, crossbars or edges. Pick up a paint brush and place it around 3 mm from the edge, then carefully push it towards the glass. Pressing the brush lightly, guide it in a quick downward motion, resulting in a long and even stroke. If you feel, that you have not mastered this technique sufficiently, secure the glass with cardboard or masking tape.
Casement windows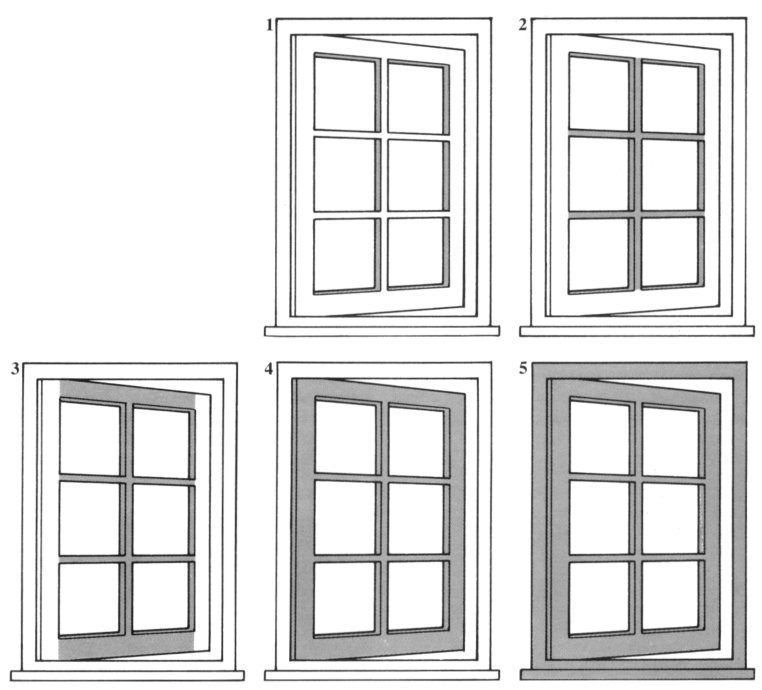 1 Remove the latches and handles. If one of the windows is permanently installed, start painting with an openable window, by painting the notches.
2 Then paint the crossbars, starting from the top.
3 Now take care of the remaining cross surfaces, also top down.
4 Paint the sides and edges.
5 Finally, paint the doorframe and window sill. Painting the windowsill at the very end will save you from getting your clothes dirty, while the unpainted frame will allow you to freely position the window while painting.
How to avoid paint over windows?
If you want to paint the frame evenly, you can cover the glass with cardboard or cover it with masking tape before painting. Press down firmly on the tape, so that no paint gets under it and only remove it after the last layer has dried, lest you peel it off with the paint.
You must remember this, so that the paint covers the glass a little, which prevents moisture from entering the rebates and preventing wood rotting. You can easily remove any paint splashed on the glass after it dries with a razor blade and white spirit.