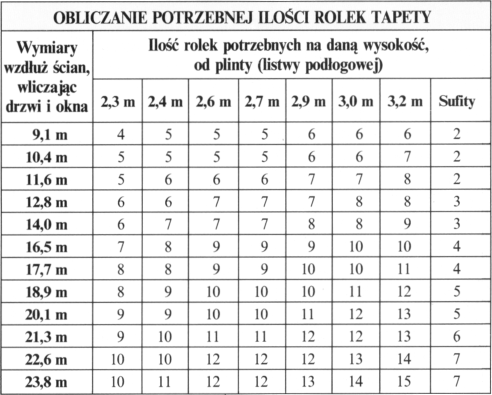 Calculation of the amount of wallpaper needed
Due to the smaller number of variable factors, it is possible to estimate the wallpaper consumption more precisely than the paint consumption. Measure the height of the room, apart from the slats, and add 10 cm match. Use the table below, to calculate, how many rolls will you use, remembering, to add 10% for possible mistakes, especially with patterned wallpapers. After you finish your work, save it, how many rolls have you used to wallpaper a given room; this will help you make calculations during subsequent renovations. Standard wallpapers are sold in rolls of a length 10 m and width 50 cm. Rolls of backing wallpaper are generally wider and can be purchased in both standard lengths, and in larger ones, economical rolls.
WHAT YOU SHOULD REMEMBER
• Zawsze kupuj klej zalecany przez producenta do danego typu okładziny.
• Przed rozpakowaniem rolek sprawdź, whether they come from the same batch.
• Zawsze tapetuj najpierw sufit, and then the walls.
• Przed rozpoczęciem tapetowania skończ wszystkie prace malarskie.
• Do pracy włóż kombinezon lub fartuch z dużymi kieszeniami, in which the scissors will fit, wallpaper brush and other tools.
• Zastosuj się do podanych rad, defining exit points for wall and ceiling wallpapering.