Sticking the base wallpaper
The base wallpaper is hung in horizontal stripes, therefore the sheet must have a length that matches the width of the wall. We advise against streaking short sections, as it is difficult to match them perfectly.
Select the guideline for the first sheet (below right), start from the top towards the skirting board. The first sheet should overlap the ceiling by approx 2,5 cm allowing for even trimming later. Each length should also overlap by 1,2 cm on each of the adjacent walls.
Each horizontal sheet should touch the previous one. Try to avoid overlapping sheets, because it will show under the right wallpaper.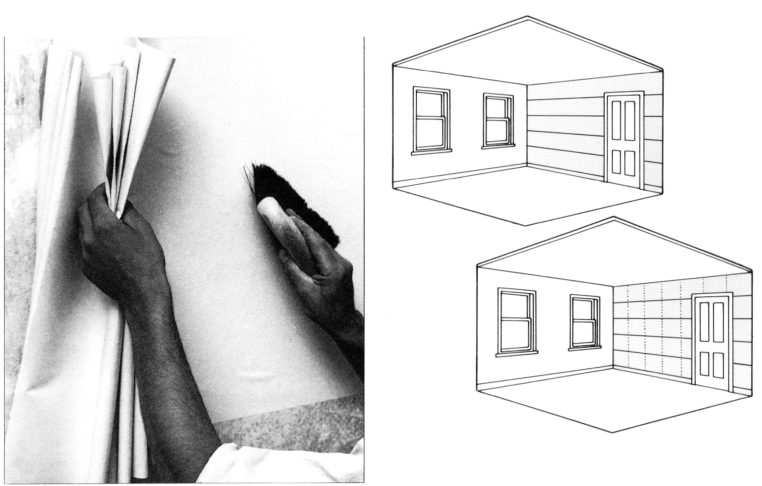 Sticking horizontal stripes of the backing wallpaper.
Unroll the sheet and smooth it with a brush on the wall.
Where to start pasting walls with backing wallpaper?
We hang the base wallpaper on the walls with horizontal stripes. If the surface is extremely uneven, stick two layers of wallpaper crossing each other. Apply the first layer with vertical stripes, the other horizontal.
Staking defects in the base wallpaper.
For that, where only a small part of the wall needs to be covered with a backing wallpaper, you can apply the patching technique. Cut out a piece of wallpaper in the size you want, leaving a few centimeters around and stick it on the wall, but without pressing down on the overlapping edges. After the glue is dry, tear off the protruding border, making the edges of the patch frayed.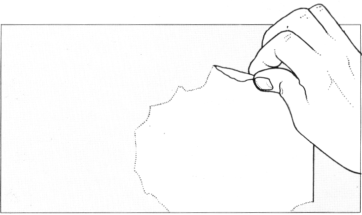 Stocking up of damaged base wallpaper
Tear off the summer border, leaving frayed edges.