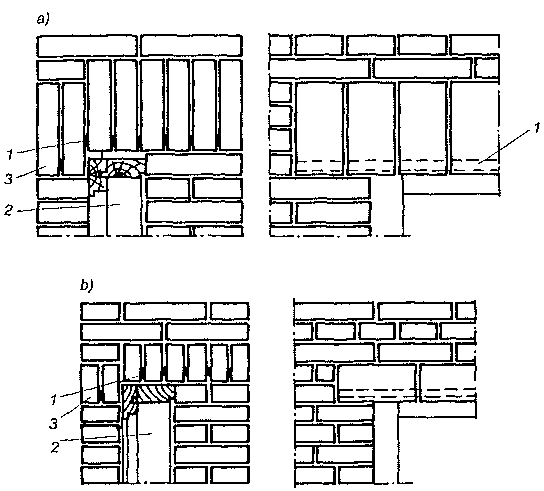 Brick lintels (Klein) above the openings with jambs: a) about height 1 bricks, b) about height 1/2 bricks (section and side view); 1 - a hoop or a rod, 2 - door frame, 3 - embrasure.
There are many types of flat lintels in brickwork:
a) z cegieł zbrojonych wkładkami stalowymi, called Klein,
b) z belek stalowych wypełnionych cegłą,
c) żelbetowe monolityczne,
d) żelbetowe prefabrykowane.
Brick lintels (Klein)
The lintel beam consists of bricks connected with mortar and reinforced in the joints with a hoop with a cross-section of 2×15 mm do 3×30 mm or rods with a diameter 5-12 mm. Depending on the span of the lintel (the width of the opening) bricks are set to the hem or standing. The maximum span of the lintel should not exceed anything 2,5 m. If the lintel span is not greater than 1,5 m, then the height is assumed 1/2 bricks, for larger spans, the height of brick I should be taken. Class bricks should be used to make the lintels 15 or 10 and a cement mortar in proportion 1:3.
The lintel is made on formwork and stamping, which should be held in place by 14 days. Reinforcement bars (stave) should be extended beyond the lumen of the opening in length 20 cm.