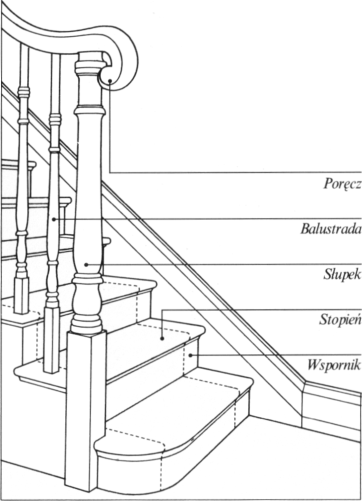 Painting stairs and staircases
We postpone painting the stairs until the very end of the renovation, as walls and steps are susceptible to upholstery when moving furniture; They are also a color link between individual rooms and floors. Begin by mounting a stable platform, from which you will be able to reach even the least accessible parts of the walls. Remove rugs and ornaments, clean all surfaces and remove defects in the form of squeaks or warping of wooden steps, cracks, cavities or clefts.
Start working from the top, that is, the ceiling and the mezzanine, and gradually work your way down, painting the walls, then degrees, balustrade and handrail. Try your best, that household members keep moving around the house and opening the door to a minimum, until the paint is completely dry, to reduce the build-up of dust.
If you are going to paint wooden parts with clear varnish and change their shade, start by filling in cracks and cavities, then decorate them.
Stairs and handrails
There is usually more dust on the stairs, therefore, clean the surface thoroughly before painting the steps.