Painting frescoes
The only limitation here is the limits of your imagination. We usually associate frescoes with paintings on the walls, but they can also be used to decorate floors, ceilings or furniture. Their implementation does not require any special preparations, and all the materials you need are available at a home improvement store.
You can paint very bold compositions, using strong contours, or create more subdued and subtle visions.
The choice is yours. You can paint the landscape with an abstract composition or a genre scene.
If you don't feel up to it, To come up with your own design, you can copy your favorite photo or picture.
First, draw a design on the squared paper, then divide the space, you want to paint over with the same number of appropriately enlarged squares. Square by square, sketch out the contours on the wall, the floor, ceiling or selected piece of furniture, fill them with colors (using masking tape), then even out with a thin brush.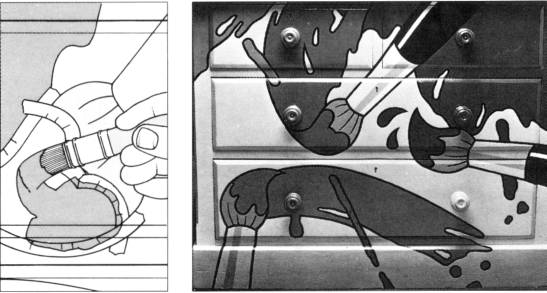 The use of masking tape
Cover the contours with masking tape, then apply the colors (on the right). Start with the lightest colors. Before you start painting the next field, make sure, the previous one has already dried up. Try to apply paint thickly, to reduce the number of layers. Finally, remove the tape, fill in the missing fragments and paint the contours with a thin one, black line.