The best would be, if the painting of offices could take place in a well-ventilated room during the day, to enjoy natural light. If we paint under artificial light, gaps in paint coverage may be overlooked. For best results, interiors should be painted in a strictly defined order – from the highest point of the room to the lowest point.
Practical advice
• Although office ceilings can be painted, standing on the ladder, it connects to the continuous, tiring for the legs to climb up and down. Therefore, it is much easier to make an elevation with two ladders or trestles and a board. In low rooms it is most convenient to use a roller with a boom.
• When painting walls and ceilings in offices, you should plan your working time well. You can even paint on one wall, but every large plane – including the ceiling – should be completed in one go.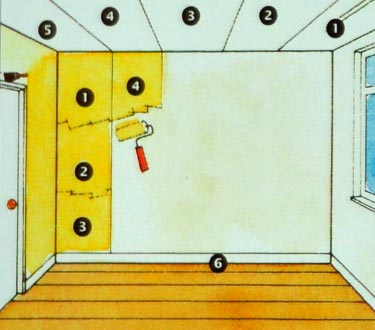 From the beginning to the end
To paint any room in the office, we always start with the ceiling, because the paint will inevitably drip and you can splash the walls.
1 In a room with a window and a door, we start painting the ceiling from the window side and paint the surface across, parallel stripes, until we reach the wall with the door (tooth. 1-5 in the illustration above). We only paint to the spot, which is easy to reach from the point, where we are, regardless of, are we standing on a platform, on ladder, do we use a roller on an extension arm. If there is stucco on the ceiling or it is convex, we paint the office surface around with a small brush and continue painting with stripes.
2 Another step, if it is necessary, should be the application of primer and primer on wooden doors and windows, and skirting boards. The primer must dry thoroughly (it's best to leave it overnight).
3 Then we paint the walls of the office or other large surfaces. We start from the upper left corner of one of the walls and paint with a brush, with a roller or a trowel, covering about a square meter of the surface at a time. We paint down, from ceiling to floor, vertical stripes (tooth. 1-4 in the illustration). In the same way, we finish painting this wall and paint the rest. To paint around the window, we circle them first with a small brush or roller, and then we paint the wall around with a larger brush, with a roller or a trowel.
4 We paint door and window frames with surface paint. We cover the door leaves and the floor with paint last. We paint the skirting boards, when we finish painting the ceiling and walls.