Sponging
With a little patience, you can use a sponge to apply a mottled or spotted pattern to the wall.
As opposed to brushing and pressing a rag, this technique involves applying a different color of paint to a neutral background. So the first step is to paint the walls and let them dry on 24 hours. Then pour the thin non-covering colored paint into a shallow dish. Dip a sponge in it and imprint it on the newspaper, until excess paint drains off. When there are slight spots on the paper, you can start to imprint a pattern on the wall. When it starts to turn pale, wet the sponge again. After the wall is dry, fill in any gaps. If you want a softer pattern, repeat the treatment, using paint of a different color.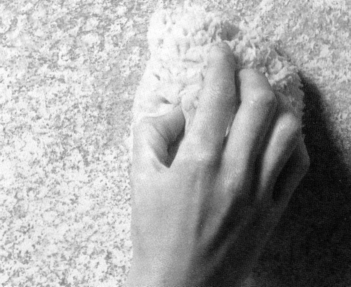 Sponging
Lightly apply a second paint with a sponge, changing the position and direction of the sponge's movements as often as possible, to avoid repeating patterns.